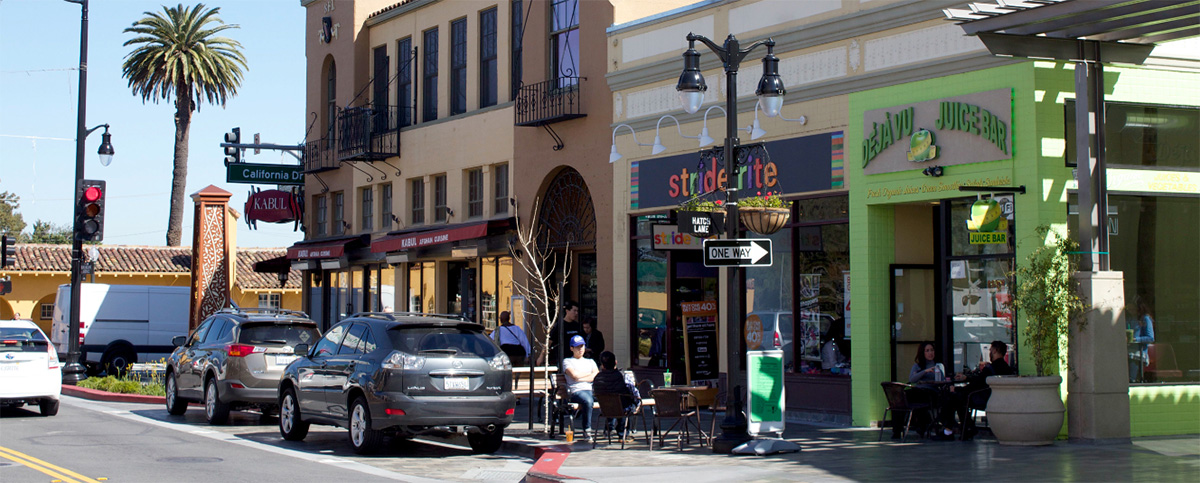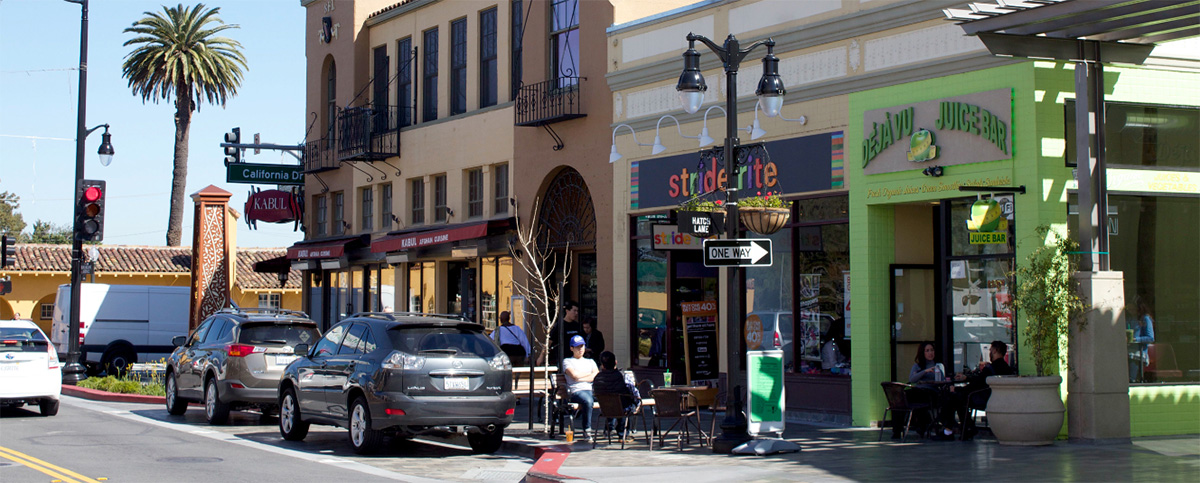 Community Character
A combination of physical, cultural, natural landscape, and urban development features shape Burlingame's character. Framed by San Francisco Bay and the Santa Cruz Mountains, the city has both hillside and flatland environments that have defined development patterns and approaches. Early development that focused around the two train stations, built in 1894 and 1917, established a traditional grid street pattern for the residential neighborhoods and commercial districts. The character of many of Burlingame's earliest neighborhoods—Easton Addition and Burlingame Park, to name a few—can be seen today in the well-preserved homes along tree-lined streets. In fact, treasured tree plantings and groves contribute significantly to the city's "feel." In Downtown, development patterns reflecting a pre-automobile era have been embraced anew as a mixed use, pedestrian-oriented district that projects a European village charm, where neighbors meet at the library and restaurants along Burlingame Avenue and its intersecting Downtown streets. Burlingame High School and Washington Park provide a community focal point for neighborhoods east of Downtown. The northern portion of the community benefits from the presence of the Broadway commercial district, which functions as a neighborhood retail and service center for that area.
In the hillsides, tracts of 1960s-era ranch-style houses, with a sprinkling of Eichler-style homes, exemplify a period of a robust American economy, when home ownership represented a goal for many American families. Residents have shown their commitment to the community by investing in significant improvements in these homes, and City staff anticipates that over the life of this General Plan, pressures to remodel and expand will be great, given the scarce housing resources in the Bay Area and Burlingame's strategic location near employment centers north in San Francisco and south in Silicon Valley.
Along San Francisco Bay, land use patterns reflect the dividing line created by Highway 101 and the proximity to San Francisco International Airport (SFO). The Bayfront district historically has supported higher-intensity nonresidential uses and is distinctively different than Burlingame's neighborhoods, Downtown, and the Broadway commercial district. For example, the Bayfront features hotels serving travelers in and out of SFO, industrial uses, and utility uses such as the wastewater treatment facility. The location of properties directly on the Bay offers opportunities for vibrant new uses that provide jobs for all income levels and recreation amenities for locals and visitors to enjoy. Similarly, the Rollins Road district, while built up as an industrial area, can be reinvented as a more diverse mixed-use neighborhood, particularly where properties have ready access to the multimodal BART station in Millbrae.
Residents of Burlingame are proud of their community, its balanced land uses, and its small-town character. Throughout the process of crafting this General Plan and looking toward the year 2040, residents and the business community consistently expressed their desire to preserve the physical qualities that define Burlingame: the diverse neighborhoods that offer housing of many scales and styles, the urban forest character citywide, a lively Downtown, the Broadway district with local-serving businesses, great parks, and business districts on Rollins Road and along the Bay that provide jobs across the economic spectrum. But the community and City leaders also have recognized a responsibility to carefully plan for and accommodate changes brought about by economic growth throughout the Bay Area, the tremendous regional demand for new housing, and the evolving nature of retail commerce, leisure activities, and living choices. This Community Character Element balances these values and objectives. This element also defines policies to guide targeted growth, sustainable development practices, preservation of historical resources, maintenance of urban forests, and continued enhancement of streetscapes.