Planning Context
Burlingame's Bayfront area covers approximately 2.5 linear miles of frontage along San Francisco Bay. The Bayfront is characterized by the open waters of the bay, important recreation and open space resources, and office buildings, hotels, and destination restaurants that benefit from their proximity to San Francisco International Airport. These commercial uses provide an important economic base for the City. Within the Bayfront Area, the Inner Bayshore district between Old Bayshore Highway and Highway 101 has long provided space for warehouses, industrial and logistic businesses, and office space that largely support uses at the airport.
Largely due to limited access across Highway 101, the Bayfront has developed somewhat independently from the rest of Burlingame, on properties that were once tidal lands and marshlands. The area is composed primarily of fill materials imported to development sites. The low-lying properties are exposed to flood risks and sea level rise hazards. 
The regional Bay Trail runs along the Bayfront, providing a pedestrian and bicycle connection between recreation opportunities and services along the Bay. While the trail is substantially complete, gaps occur where the trail route crosses private lands (see Bayfront Diagram). 
Bayfront Vision
The Bayfront will be a regional recreation and business destination. Enhanced parks, natural open spaces, and recreational amenities will offer places that residents and visitors can enjoy, with enhanced access for pedestrian, cyclists, and watercraft, including commercial ferry service. The area will be an environment where hotels and airport-related services continue to thrive, and where new commercial uses create a well-rounded district that serves a variety of needs. Industrial and office uses within the Inner Bayshore district will continue as preferred land uses, and compatible creative industries will be accommodated and encouraged. Long-term parking uses that serve operations at the airport will only be considered in conjunction with office and hospitality development, and only as a secondary or ancillary use. All development will be undertaken in a manner that protects people and property from flood hazards and sea level rise.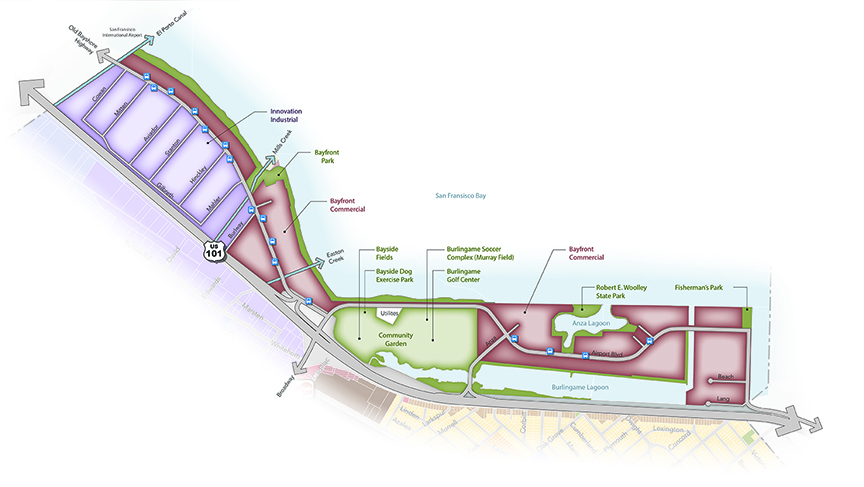 Goal:
CC-5

Maintain and promote the Bayfront Area as a premier destination along San Francisco Bay for land- and water-based recreation, hospitality uses, creative industries, logistics support, water-based transit service, and local businesses that benefit from proximity to San Francisco International Airport.

,
Goal:
CC-6
Establish a cohesive design character for the Bayfront Area that protects views to the waterfront, encourages walking and biking, accommodates water-based recreation and ferry service, and addresses sea level rise.
SEA LEVEL RISE
Sea Level Rise Approaches that communities typically consider: Protect, Accommodate, Retreat, Hybrid, and/or Adaptation. In Burlingame there may be limitations on some approaches, given current and future land uses along the shoreline, and the engineered nature of the land and shoreline.