Planning Context
The Rollins Road industrial corridor is a major employment base in Burlingame. Dating to the middle of the last century, the area largely has supported light manufacturing businesses, warehousing, auto repair shops, and wholesale sales activities. In the early 2000s, new uses setting up business in the district included commercial recreation businesses such as tennis clubs and indoor soccer facilities. Given the presence of the Millbrae multimodal transit station less than one-half mile from the north end of Rollins Road, the district presents opportunities for further evolution and particularly, to support housing development. However, with the diminishing availability of well-situated industrial properties in the Bay Area, balancing the need to preserve industrial land and businesses with the ability to accommodate emerging and desirable new uses will be a key challenge.
Rollins Road itself is a wide, four-lane thoroughfare with parking on both sides. Service and delivery trucks utilize the parking (and sometimes traffic) lanes during certain hours, and traffic on the street is relatively light. Currently, the corridor is not pedestrian friendly, as sidewalks are relatively narrow, buildings are set far back, and few pedestrian crossings are provided. Over time, the northern portion of Rollins Road in the Live/Work area should be enhanced to support pedestrian activity, balanced with continuing to accommodate truck traffic accessing the Innovation Industrial area to the south (see Rollins Area Context Diagram).
Rollins Road Vision
Rollins Road will primarily be an industrial district, particularly along the southern portion of the street within the Innovation/Industrial district. Traditional light industrial uses and auto service businesses will continue to represent key land uses since these provide vital services and jobs within the community, but allowing a cluster of creative and design industry activities to flourish will create synergies and a regional destination for wholesalers and consumers.
The northern portion of the corridor, within easy walking distance to the Millbrae multimodal transit station, presents an opportunity for establishment of a new neighborhood of medium- and high-density creative live/work units and support uses. The City envisions creation of a complete new neighborhood, where residents and creative businesses have ready access to transit, supportive commercial businesses, and public and private open space amenities. Such housing will include workforce housing, thus meeting the needs of all income levels in Burlingame. Streetscape improvements within the new neighborhood will emphasize a pedestrian focus, while still accommodating industrial-related traffic through to Millbrae Avenue.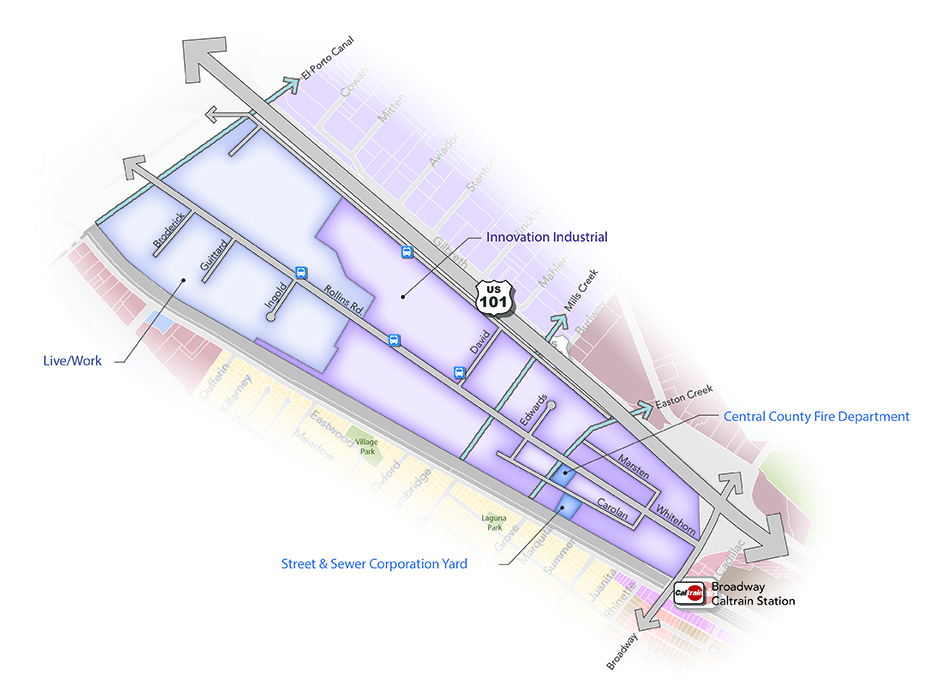 Goal:
CC-12
Recreate Rollins Road as two distinct but complementary districts, with the southern two-thirds of the corridor supporting industrial and creative business enterprises and the northern one-third of the corridor reimagined as a live/work complete residential neighborhood—with parks, tree-lined streets, and a pedestrian orientation—that connects to the Millbrae multimodal transit station.